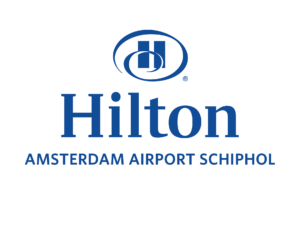 Unique, inspiring and innovative!
Hilton Amsterdam Airport Schiphol is unlike any other airport hotel. Visionary and inspirational, its breathtaking design redefines what an airport hotel should be. The hotel's seemingly endless geometric façade and vast, open lobby at the 42-meter high atrium is a fitting welcome to the level of outstanding service. Fresh, bold and surprising are worthy descriptions of the rooms and amenities, including Bowery Restaurant, Axis Lobby & Cocktail Bar and Fitness Centre. Ideal for a business lunch or after work drink, enjoy the best cocktails on the airport!
Hilton Amsterdam Airport Schiphol is perfect for both business as leisure travelers. The hotel is directly connected to the Amsterdam Airport Schiphol terminal via a direct covered walkway (5-7 minute walk).
The city of Amsterdam offers a variety of Hilton hotels; experience timeless elegance at Waldorf Astoria Amsterdam, Double Tree by Hilton Amsterdam Centraal Station or the canal-side Hilton Amsterdam. Explore more Hilton hotels in The Netherlands such as Hilton Garden Inn Leiden, Hilton Rotterdam (located in the city center of Rotterdam), Hilton The Hague (situated in the embassy district and not far from Scheveningen beach) and DoubleTree by Royal Parc Soestduinen, located in the countryside, close to Utrecht and Amersfoort.