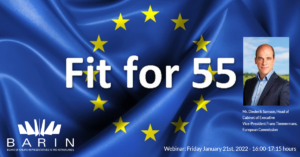 BARIN organizes "Fit for 55" webinar on 21 January.
We are very proud to be able to once again announce a fantastic line-up of speakers:
Mr. Diederik Samson – Head of Cabinet of Executive Vice-President Frans Timmermans, European Commission
Mrs. Heike Luiten – Director NS International
Mr. Marcel de Nooijer – CEO Transavia
Mr. Carlo van de Weijer, General Manager at Eindhoven AI Systems Institute at Eindhoven University of Technology will challenge the participants with some fascinating observations.
Please click here for more information and to register.