Luchtvaartsector overhandigt actieplan 'Slim en Duurzaam' aan minister I&W
35% minder CO2-uitstoot door Nederlandse luchtvaart in 2030
click here to download the English version
Amstelveen, 3 oktober 2018 – Vandaag heeft de luchtvaartsector een actieplan voor verduurzaming van de luchtvaart aangeboden aan minister Van Nieuwenhuizen van Infrastructuur en Waterstaat (I&W). Voor het plan 'Slim en Duurzaam' hebben twintig transportorganisaties en kennisinstellingen de handen ineengeslagen om bestaande ontwikkelingen voor de verduurzaming van de luchtvaart te versnellen. Doel is om de CO2-uitstoot van de luchtvaart vanuit Nederland in 2030 met 35% te verminderen. Onderzoeksbureau CE Delft beoordeelt het plan als ambitieus en concreet en concludeert dat de geformuleerde doelen haalbaar zijn.
De luchtvaart is wereldwijd verantwoordelijk voor 2% van alle CO2-uitstoot. Het actieplan beoogt dat de Nederlandse luchtvaartsector de slimste én duurzaamste ter wereld wordt en bevat in totaal zeven thema's. Het actieplan kan als input dienen voor de klimaattafel.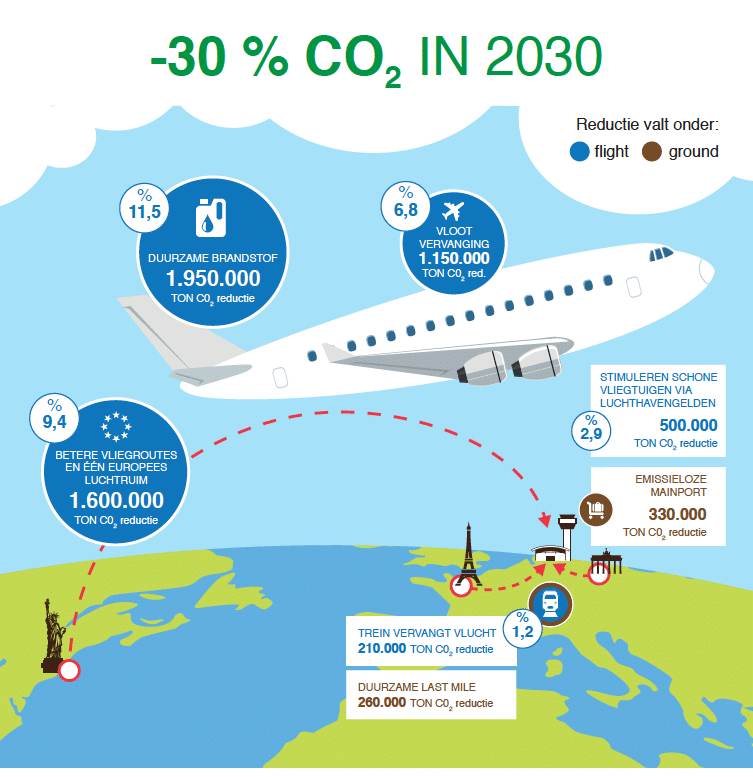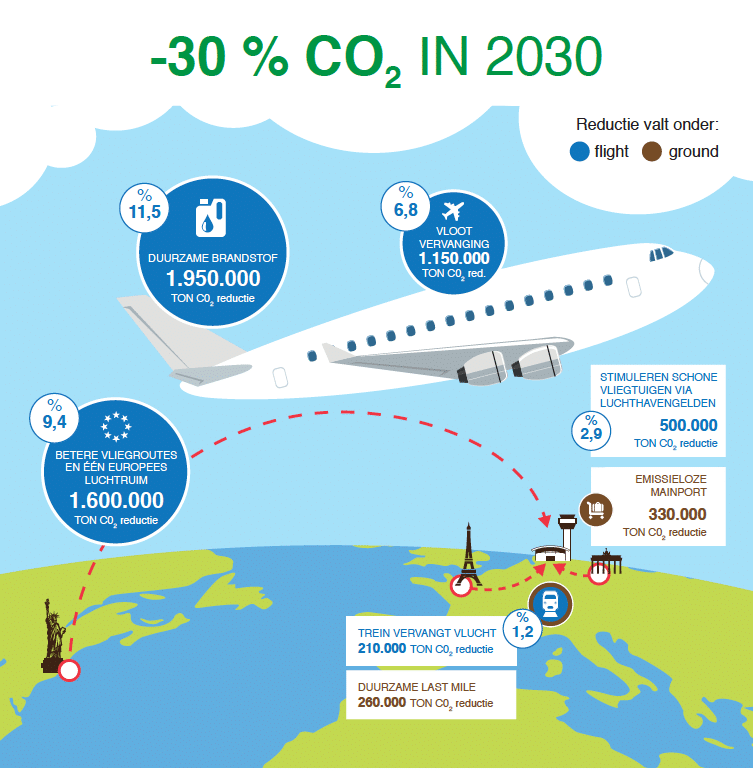 Vijf thema's hebben betrekking op het verlagen van CO2-emissies van de internationale luchtvaart vanuit Nederland: maar liefst 35% minder uitstoot in 2030. Dit komt bovenop de substantiële CO2-vermindering die de luchtvaart levert via het Europese handelssysteem en het mondiaal VN-systeem voor emissiehandel (CORSIA) die invulling geven aan de doelstellingen van Parijs. Daarnaast zijn er nog twee thema's die resulteren in verlaging van CO2-emissies, maar dan op de grond.

The seven themes of "Smart and Sustainable" are:
Optimising flight routes and procedures
The efficient use of fuel results in fewer CO2 emissions. More direct flight routes and improved takeoff and landing procedures will result in less fuel consumption. Current routes in Dutch and European airspace are overloaded and not always efficient, and lead to added and unnecessary CO2 emissions.
Encouraging cleaner aircraft by levying airport fees
Schiphol intends to differentiate airport charges (between 2019 and 2022) partly on the basis of climate impact. Airlines will pay less to use quieter and generally cleaner aircraft, while the costs for noisier, more polluting aircraft will increase.
Introducing sustainable fuel
As a result of the long development time and life span of new aircraft, kerosene-based fuel will remain the fuel of choice for the time being. For this reason, sustainable fuel is one of the most effective ways of reducing CO2 emissions on the relatively short term. These are sustainable biojet fuels made from raw materials that do not compromise human or animal food supplies or which cause environmental damage such as deforestation.
Radical fleet renewal
We have taken major steps to reduce our climate impact by introducing radically new aircraft concepts and fully electrically powered aircraft. The Dutch aviation industry and knowledge institutions are playing an important role in developing new aerodynamic models, stronger and lighter materials, and electric-hybrid propulsion that will be necessary after 2030 to further reduce emissions from aviation. Over the next decade, airlines will continue to renew their fleets, thereby further reducing their emissions.
Deploying international train service and other sustainable means of transport over short distances
The Netherlands benefits from a customer-centric, fast, and sustainable transport system. On some routes, trains are a good alternative to air travel up to a distance of 700 kilometres. The success of the Eurostar and Thalys proves that this is possible and that it is better for the environment. To make train travel even more attractive, we will need faster trains, better connections to Schiphol, and it must be easier to buy integrated AirRail tickets. To further develop Schiphol as a multimodal hub, the extension of the North-South Metro line above ground is another interesting option. This will create space for international trains in the Schiphol Tunnel. And there are sustainable alternatives other than the train that can be further developed for routes with smaller passenger volumes.
Emission-free airports
In 2030, we will ensure that all Royal Schiphol Group airport terminals, offices, and ground operations will be climate neutral. Schiphol already runs entirely on electricity generated by Dutch wind and is making efforts to increase energy efficiency (for instance, by using LED lighting), phase out gas (for instance, by using heat and cold storage), and limit commuting. Airport users (including airlines and handling agents) also play an important role in making the airport climate-neutral by making greater use of electrical equipment and other technology.
A fast and efficient journey to and from the airport
The journey to and from the airport takes time. It can be unnecessarily complicated, cause traffic jams, and contribute to carbon emissions. At present, travellers opt for cars and public transport. Other solutions – electric rental cars and faster public transport to and from airports – are also needed. Furthermore, passengers must be able to make use of reliable and efficient transfers and have more options for getting cargo and baggage from door to door. Also in air cargo transport, all parties work closely with the help of digitisation, chain agreements, and good information exchange to optimise their activities. This will improve lead times and loading rates, and reduce carbon emissions.
The twenty companies and institutions behind the "Smart and Sustainable" plan of action are: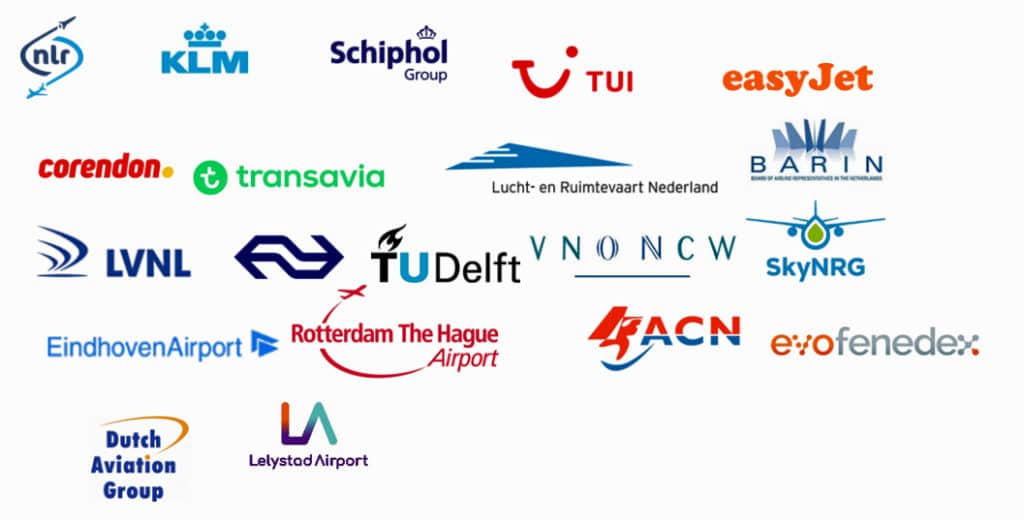 De zeven thema's van 'Slim en Duurzaam':
Het optimaliseren van vliegroutes en procedures
Zuinig omgaan met brandstof zorgt voor minder CO2-uitstoot. Hoe directer de vliegroute en hoe beter de landings- en startprocedure, des te minder het brandstofverbruik. De huidige routes, in zowel het Nederlands als het Europees luchtruim, zijn overbelast en niet altijd efficiënt, wat leidt tot overbodige CO2-uitstoot.
Het stimuleren van schonere vliegtuigen via luchthavengelden
Schiphol heeft het voornemen om de luchthavengelden (2019-2022) deels te differentiëren op basis van klimaatimpact. Maatschappijen betalen minder voor stillere en daarmee in de regel minder vervuilende vliegtuigen, terwijl de kosten voor lawaaiige en daarmee meer vervuilende vliegtuigen omhoog gaan. 
De inzet van duurzame brandstof
Door de lange ontwikkeltijd en levensduur van nieuwe vliegtuigen blijft kerosine voorlopig dé brandstof om op te vliegen. Daarom is duurzame brandstof één van de meest effectieve manieren om op relatief korte termijn de CO2-uitstoot te verminderen. Duurzame kerosine gemaakt van grondstoffen die niet ten koste gaan van de voedselvoorziening van mens en dier en/of zorgt voor milieuschade, zoals dit bij ontbossing het geval is.
Radicale vlootvernieuwing
Grote stappen in het reduceren van onze klimaatimpact worden gezet bij de invoering van radicaal nieuwe vliegtuigconcepten en volledig elektrisch aangedreven vliegtuigen. De Nederlandse luchtvaartindustrie en kennisinstellingen spelen een belangrijke rol bij het ontwikkelen van nieuwe aerodynamische modellen, sterkere en lichtere materialen en elektrisch-hybride voortstuwing die na 2030 noodzakelijk zijn om de emissies van de luchtvaart verder te doen afnemen. In het komende decennium gaan luchtvaartmaatschappijen door met het vernieuwen van hun vloot en het daarmee verder verlagen van hun emissies. 
Inzet internationale trein en andere duurzame vervoersmiddelen op korte afstanden
Nederland is gebaat bij een klantgericht, snel en duurzaam transportsysteem. De trein is op bepaalde routes, tot een afstand van 700 kilometer, een goed alternatief voor vliegreizen. Het succes van de Eurostar en Thalys bewijst dat dit mogelijk is en dat dit beter is voor het milieu. Om de trein echt aantrekkelijker te laten zijn, moeten er snellere treinen rijden, een betere aansluiting op Schiphol komen en het moet eenvoudiger worden om geïntegreerde AirRail tickets te kopen. Om Schiphol verder te ontwikkelen als multimodale hub is bovendien het bovengronds doortrekken van de Noord/Zuidlijn een interessante optie. Daardoor ontstaat er ruimte voor internationale treinen in de Schipholtunnel. Tevens zijn er andere duurzame alternatieven naast de trein die verder ontwikkeld kunnen worden voor routes met minder grote passagiersvolumes.
Emissieloze luchthavens
In 2030 zorgen we ervoor dat de terminals, kantoren en grondoperatie van alle luchthavens van Royal Schiphol Group klimaatneutraal zijn. Schiphol draait al volledig op door Nederlandse wind opgewekte elektriciteit en spant zich in voor het verhogen van de energie-efficiënte (bijvoorbeeld door het gebruik van ledverlichting), het uitfaseren van gas (onder meer door het gebruik van warmte-koudeopslag) en het beperken van het woon-werkverkeer. Daarnaast spelen de gebruikers van de luchthavens (onder andere luchtvaartmaatschappijen en afhandelaren) ook een belangrijke rol in het klimaatneutraal maken van de luchthaven door onder andere meer gebruik te maken van elektrisch materieel.
Een snelle en efficiënte reis van en naar het vliegveld
De reis van en naar het vliegveld is er een die tijd vergt, die soms onnodig ingewikkeld is, die zorgt voor filevorming en die bijdraagt aan CO2-emissies. Op dit moment kiezen reizigers voor de auto en het openbaar vervoer. Ook oplossingen zoals een elektrische leenauto en sneller openbaar vervoer van en naar de luchthavens zijn nodig. Daarnaast moeten passagiers gebruik kunnen maken van betrouwbare en efficiënte transfers en meer opties hebben om vracht en bagage van deur tot deur te krijgen. Ook in het luchtvrachtvervoer werken alle partijen nauw samen om via digitalisering, ketenafspraken en goede informatie-uitwisseling vrachtactiviteiten te optimaliseren. Hierdoor worden doorlooptijden en beladingsgraden verbeterd en CO2-emissies verlaagd.
De 20 bedrijven en instellingen achter het 'Slim en Duurzaam' actieplan zijn: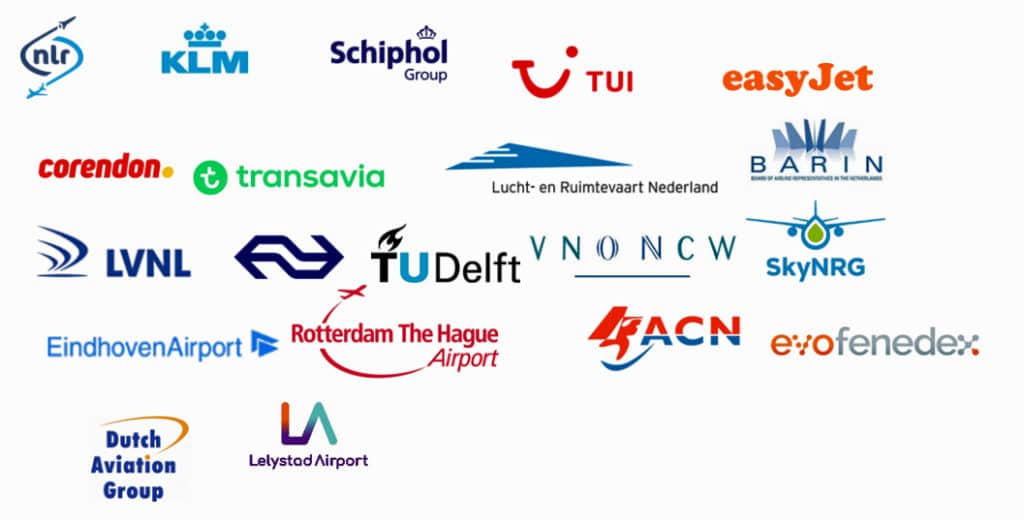 Click hier voor het document Actieplan Luchtvaart Nederland: 35% minder CO2 in 2030
Click hier voor het document "Aviation Climate Solutions" opgesteld door ATAG (Air Transport Action Group)